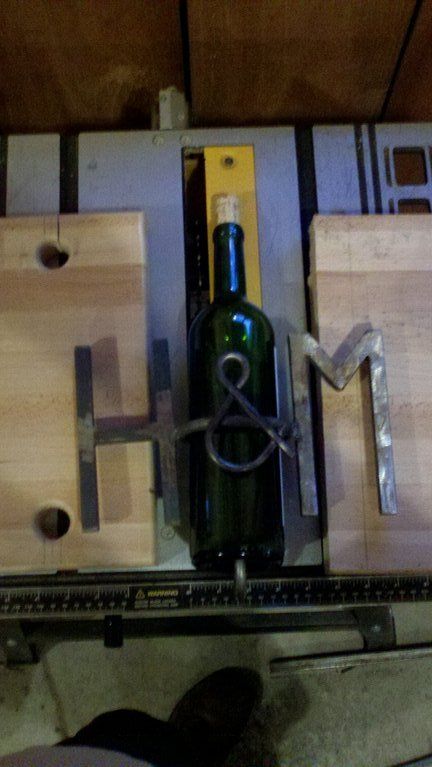 My apologies for the crappy cell phone pic.
This is a wine bottle (and later
wine bottle tiki torch
) holder that I am making as a wedding present for my friends Hector and Melanie (hence the H & M).
Obviously it still needs a base, some cleanup work with a grinder and file, and a coat of paint but I'm stuck on what kind of base to make for it. I want it to sit flat on a table to either a flat or legged base is what I want as opposed to a wall mount. I am really very happy with how it looks so far and I'm afraid I'll ruin it if the base I make doesn't 'flow' with the rest of the design.
I think this would look awesome as a wall mount because the bottle is held in place by a sort of "belt" around the middle and a J shaped hook that comes down the back and hooks up into the dimple in the bottom of the wine bottle. Since the idea is that it becomes a torch, simply making it a wall mount is a terrible idea as it would put the flame right next to the wall and they live in an apartment and I don't know if they are allowed to put a bunch of holes in the walls. I am stuck on the torch thing because (A) I'm not sure Hector drinks and (
I plan to write a letter to go with the gift explaining that it is an allegory for a successful relationship because it starts out with the intoxication of infatuation when you first fall in love but after that wears off you are left with a light to guide you through your lives together ...or something like that.
Because I like the wall mount look, it just isn't practical or safe, I'm thinking about cantilevering the part shown in the picture off a less-visible rear support that goes down to connect to a flat base. I'd bend a circle that is wide enough to act as a stable base (≈6") and add a vertical piece coming up from the back of it and bending it forward after it rises behind the bottle in kind of an upside down J shape an welding it onto the back of the hook that supports the bottle. This would allow the bottle/letters part to look like it was floating above the base.
I'm not sure how clear my explanation was but I'm open to any advice, opinions, comments, or criticisms.
After this is complete, I'd like to make a couple more of these wine bottle torch holders [without the letters] for my own back yard. I think these would make really classy tiki torches and I have a few other ideas beyond just table mounts and traditional tiki torch lawn spikes to really make them look nice.